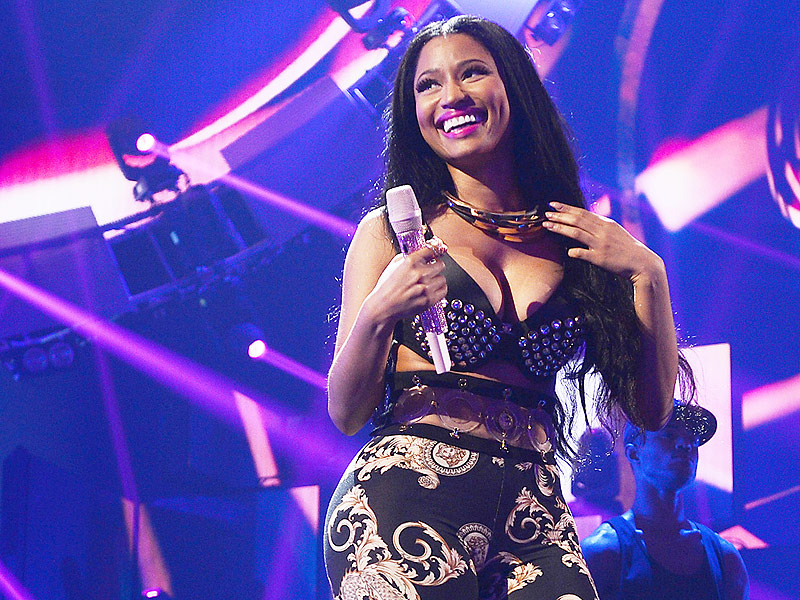 Nicki Minaj
, who
just released
a steamy video with hubby Meek Mill, has been slaying the rap game since she started releasing mixtapes in 2007. You might know that the Trinidad-born star holds the title of most followed rapper on Twitter, counts Beyoncé as a friend and collaborator, and will eagerly speak up when she feels she's been dissed. But there is much more to the outspoken artist than her accomplishments and feuds. Read below for an essential lesson in Nicki 101.
1. She Was Fired from Red Lobster…. Multiple Times
Minaj bounced around jobs while trying to make a name for herself in the rap world and even worked for several Red Lobsters in New York. "I got fired from, like, every Red Lobster you could think of: The Bronx, Long Island, Queens, everywhere," she told Atlanta's Hot 109.7. The hip-hop star has said she had many shortcomings as a waitress (like her nails falling into the food), but one incident she recounted for
Billboard
put her on the fast-track to unemployment: "I chased a customer out of the restaurant once so I could stick my middle finger up at her and demand that she give me my pen back. I swear to God I was bad."
2. She Went to School for Acting
The chart-topping rapper always knew she was meant to be a star, but as a teen Minaj believed acting would be her way into the spotlight. The "Truffle Butter" singer attended Manhattan's prestigious LaGuardia school of performing arts, where she studied acting, and after graduating, she even nabbed a role in an off-Broadway play,
In Case You Forgot
.
3. There's a Story Behind Her Alter Egos
If you've listened to any of Minaj's songs, chances are you've heard from one of her many personas. Her characters include the angry, unapologetic Roman, Roman's British mother, Martha, and girly fashionista Barbie. Minaj's alter egos aren't just a creative outlet; her "first identity," Cookie, helped her cope with her dad's drug addiction and his abusive treatment of her mother. "To get away from all their fighting, I would imagine being a new person … Fantasy was my reality," Minaj told
New York magazine
about her childhood.
4. She Feels "Haunted" by an Abortion She Had as a Teen
When Minaj was in her teens she became pregnant with her first love's child. "It was the hardest thing I'd ever gone through," she told
Rolling Stone
of having an abortion. "[The decision has] haunted me all my life." Minaj alludes to her choice to terminate the pregnancy in the emotional song "All Things Go," in which she raps, "My child with Aaron would have been 16, any minute."
5. She Loves Judge Judy and Larry David
"
Curb Your Enthusiasm
is my favorite show of all freaking time, I want to marry Larry David," Minaj admitted in a
Billboard
interview. Judge Judy also gets Minaj glued to her tube. "She's just straightforward but she doesn't realize that she's really, in her next life, a comedian," the rapper said. "I think it's hilarious like when people don't know how funny they are, when they're dead serious and I'm literally on the floor crying. I just love her."